Pan was the god of shepherds and hunters, and of the meadows and forests of the mountain wilds.
Residence: Arcadia
Symbols: Goat and panpipes
Parents: Hermes and Penelope
Children: Silenus
Roman equivalent: Faunus
He has the hindquarters, legs, and horns of a goat, in the same manner as a satyr and is often in the company of the god Dionysus. With his homeland in rustic Arcadia, he is also recognized as the god of fields, groves, wooded glens and often affiliated with sex; because of this, Pan is connected to fertility and the season of spring.
Nymphs
Syrinx was a lovely wood-nymph of Arcadia, daughter of Ladon, the river-god. As she was returning from the hunt one day, Pan met her. To escape from his importunities, the nymph ran away and didn't stop to hear his compliments. He pursued her from Mount Lycaeum until she came to her sisters who immediately changed her into a reed. When the air blew through the reeds, it produced a plaintive melody. The god, still infatuated, took some of the reeds, because he could not identify which reed she became, and cut seven pieces, joined them side by side in gradually decreasing lengths, and formed the musical instrument bearing the name of his beloved Syrinx. Henceforth Pan was seldom seen without it.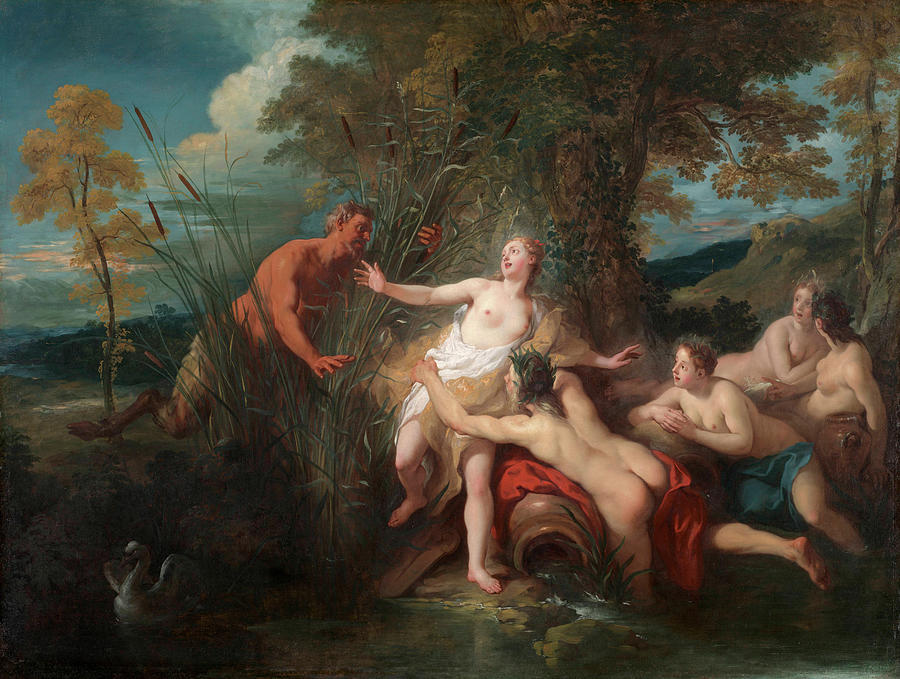 Pan had fallen in love with the nymph Echo, but she scorned the love of any man but was enraptured by Narcissus. As Echo was cursed by Hera to only be able to repeat words that had been said by someone else, she could not speak for herself. She followed Narcissus to a pool, where he fell in love with his own reflection and changed into a narcissus flower. Echo wasted away, but her voice could still be heard in caves and other such similar places.
Pan also loved a nymph named Pitys, who was turned into a pine tree to escape him.