Phorcys was the Titan sea-god of the hidden dangers of the deep.
Residence: The Sea
Parents: Pontus and Gaia
Siblings: Ceto, Nereus and Eurybia
Consort: Ceto
Children: The Gorgons, The Graea, The Sirens, Thoosa, Scylla and Ladon
He and his wife Ceto were also gods of the largest of sea creatures. Ceto's name means "whale" or "sea-monster" and Phorcys' perhaps means "seal" (phokes in Greek).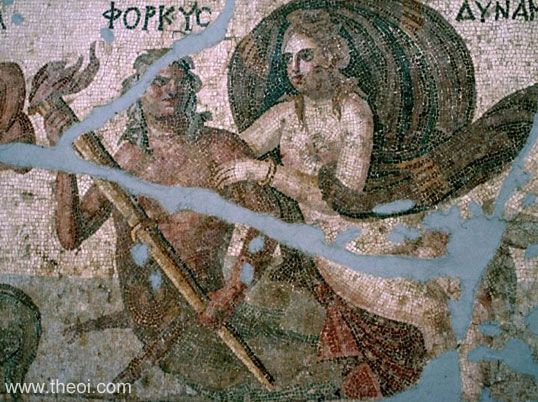 Their children were dangerous sea-monsters: Scylla (the crab) a monster who devoured passing sailors, Thoosa (the swift) mother of the rock-tossing cyclops Polyphemus, Ladon (strong flowing) a hundred-headed sea-serpent, Echidna (viper) a she-dragon, the Graeae (grey ones) spirits of the sea-foam, and the Gorgons (terrifying ones) whose petrifying gaze probably created the dangerous rocks and reefs of the sea.